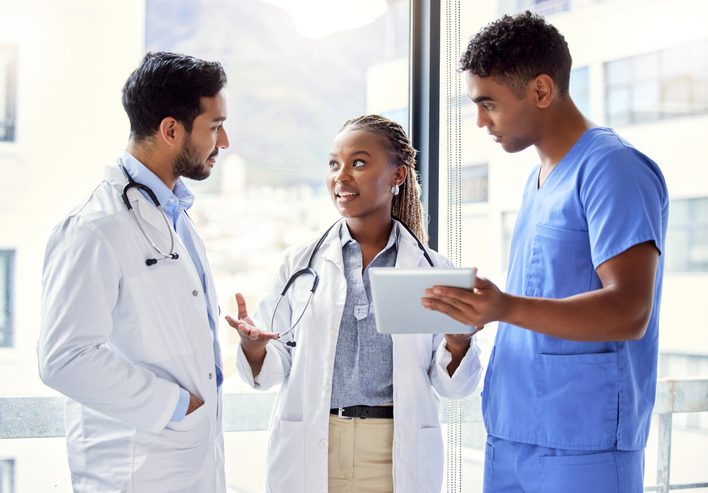 HealthBook+ Launches to Help People Own Their Health with Near-Term Focus on the Mental Health of Healthcare Workers
Digital-First Care Platform Keeps an Individual's Private Health Data Safe and Secure; Leverages Predictive Analytics and AI to Guide Personalized Next Best Health Steps
Denver, CO, February 27, 2023 – HealthBook+, the digital-first care and guidance platform that allows individuals to own their health, today launched with a near-term focus on addressing the acute and chronic issues related to the mental health of healthcare workers. 
Designed by doctors, the HealthBook+ platform aggregates an individual's health data from many sources, including electronic health records, wearable health trackers and self-reporting via simple health checks. While keeping this data private and secure, it leverages proprietary predictive analytics and AI models to identify potential conditions early on and guides individuals to their next best health steps. This includes facilitating access to healthcare screening and services through secure chats, peer coaching, and education. 
For its initial focus on the mental health of healthcare workers, HealthBook+ provides confidential, comprehensive, and personalized guidance for clinical and non-clinical staff who are experiencing burnout, career fatigue, anxiety, or depression. By leveraging their data and suggestions from the platform, healthcare workers can understand their next best health action to improve their overall health and well-being for preventative, acute, and chronic mental health conditions.
"There is a clear and present need to improve the mental health condition not just of doctors but of many healthcare workers," said HealthBook+ CEO Christopher Turner. "Our platform provides personalized, guided and confidential advice to these workers to allow them to take ownership of their condition and determine the best actions they can take to help manage their mental health."
According to a recent survey conducted by Medscape titled "I Cry but No One Cares: Physician Burnout & Depression Report 2023," more than half of physicians reported feeling burned out and nearly a quarter of doctors reported feeling depressed. Burnout can linger for extended periods with nearly two thirds of doctors surveyed saying their condition lasted for more than a year, and another 30% said it lasted for more than two years.
In the near future, HealthBook+ will address the health needs of a more general population across many common health conditions. While individuals will be guided to live their healthiest lives possible, their employers will benefit from higher productivity, lower absenteeism, and reduced employer health costs.
HealthBook+ was founded by a team of healthcare business, technology, and medical leaders, each with proven track records of achievements, who share a common purpose of improving the health of individuals. The founding team includes:
Christopher Turner – Chief Executive Officer – has a 20+ year track record of turbocharging the growth of healthcare companies, including Infermedica, Medici and Healthgrades. With a focus on leveraging partner networks and innovative technologies, such as AI and telemedicine, Chris is driven by the needs of individuals to receive the best possible guidance while maintaining privacy and control over their health choices. 
Panos Sechopoulos, MD – Chief Medical Officer – combines many years of specialty experience at hospitals in the U.S. and in Greece. In his practice, he integrates clinical gastroenterology with functional medicine with the goal of providing personalized medicine to improve patient outcomes. He focuses on collating all available clinical, family history and social data relating to an individual and combines it with biochemical and genetic testing to determine science-based personalized suggestions. 
Privately funded and already contracting with early adopters, HealthBook+ executives will be discussing their "own your health" vision with industry peers and demonstrating the company's platform at the ViVE digital healthcare event in Nashville, TN, March 26-29, 2023.
 
About HealthBook+
HealthBook+ is a simple-to-use digital-first care platform that guides an individual's next best health action using advanced AI while keeping their data private and secure. HealthBook+ identifies potential conditions early on and facilitates access to healthcare screening and services through secure chats, peer coaching, and education. For more information, visit healthbookplus.com.
MEDIA CONTACT 
Jen Massing Harris 
Massing PR, LLC  
for HealthBook+ 
+917-293-2405