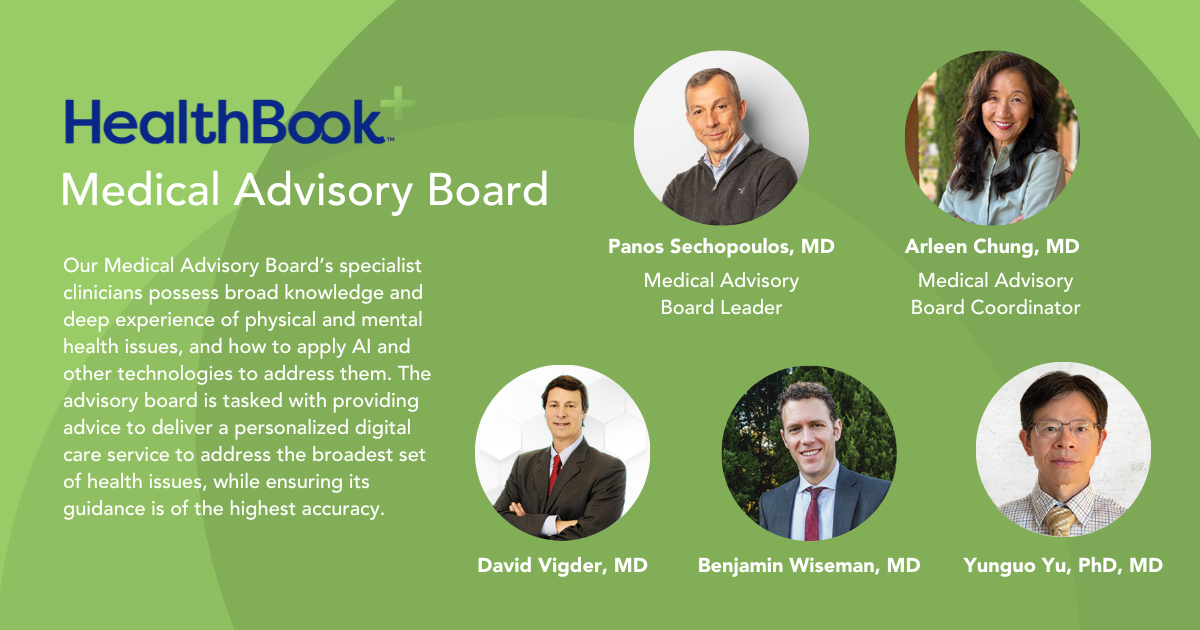 HealthBook+ Introduces Medical Advisory Board and its Mission to Optimize Personalization and Accuracy of its Digital Care Service 
Medical Advisory Board's specialist clinicians possess broad knowledge and deep experience of physical and mental health issues, and how to apply AI technology to address them.

Denver, CO, October 2, 2023 – HealthBook+, the digital-first, AI-powered early identification and guidance platform that allows individuals to own their health, today introduced its Medical Advisory Board comprising specialist clinicians with deep experience of areas including: mental and behavioral health, pediatrics, concierge medicine, direct primary care, genetics, and healthcare-related AI issues. Although its existence and vital contribution has hitherto not been discussed publicly, the advisory board has been active since the creation of the company. It is tasked with providing advice to deliver a personalized digital care service to address the broadest set of health issues, while ensuring its guidance is of the highest accuracy. 
HealthBook+ empowers individuals to take appropriate health actions based on a holistic analysis of their confidential health data and related information, sourced from their provider-based electronic health records, health plan claims data, personal wearable health trackers and other connected devices, Social Determinant of Health profiles and via self-reporting. Proprietary, predictive analytics and AI models are applied to identify potential conditions early on. Next best health actions are then presented to the individual along with options for them to easily connect with their healthcare providers.  
The Medical Advisory Board is continuing its work and currently is focusing on:
Creation of a very detailed and comprehensive medical record for individuals, to provide a thorough analysis of all health data and most complete suggestions for care options. Each user will have a personalized experience, be able to own their health data and easily be able to review and share it.
Personalization of AI-driven screeners and tools incorporated in the HealthBook+ service to improve its accuracy and utility. The entirety of a user's health data is aggregated and leveraged to fuel various tools for improved health outcomes.
Continuous evaluation of potential partner companies and capabilities to create the most complete patient journey. Isabel Health is an example of a partnership initiated in this way. A typical user experience involves connection with best-in-class capabilities provided by a number of companies and services. 
The Medical Advisory Board is led by Dr. Panos Sechopoulos, Co-Founder and Chief Medical Officer at HealthBook+, with the support of advisory board coordinator Dr. Arleen Chung. 
"I am honored to work with this team of distinguished medical practitioners who each contribute their expert experience to providing the best service, and who together share the company's vision to leverage technology to empower individuals to take their next most appropriate health steps," said Dr. Sechopoulos. 
 
The members of the Medical Advisory Board are:
Panos Sechopoulos, MD – Specialist in Gastroenterology. Co-Founder and Chief Medical Officer at HealthBook+. Leader of the Medical Advisory Board. 
Arleen Chung, MD – Specialist in Pediatrics. Coordinator of the Medical Advisory Board. 
David Vigder, MD – Specialist in Internal Medicine focusing on Direct Primary Care. 
Benjamin Wiseman, MD – Specialist in Mental and Behavioral Health. 
Yunguo Yu, PhD, MD – Specialist in Healthcare and AI/Health Data-Driven Models.
Further experienced medical experts are being selected so that the advisory board can include multiple members with common specialties, and to increase the overall domain scope of the advisory board. 
---
About HealthBook+ 
 
Headquartered in Denver, CO, HealthBook+ has built a digital-first early identification and care platform that guides an individual's next best health action using advanced AI. Designed by doctors and featuring the Serea digital human, HealthBook+ identifies potential conditions early on and facilitates access to healthcare screening and services through secure chats, peer coaching, and education. The platform's AI models are continuously reviewed by the company's Medical Advisory Board, and are powered by an individual's comprehensive health information, sourced from their provider-hosted EHR systems, personal health trackers and via self-reporting. For more information, visit healthbookplus.com. 
Medical Advisory Board Professional Biographies 
 
Panos Sechopoulos, MD – Specialist in Gastroenterology. Co-Founder and Chief Medical Officer at HealthBook+. Leader of the Medical Advisory Board. 
Dr. Panos Sechopoulos is the Co-Founder and Chief Medical Officer at HealthBook+ and leads the company's Medical Advisory Board. He is the Director of the Endoscopy Unit at Athens Medical Center in Athens, Greece. In his practice, he integrates clinical gastroenterology with functional medicine and genetics with the goal of providing personalized medicine to improve patient outcomes. Previously, Dr. Sechopoulos was Assistant Director at the Henry Dunant Hospital Center in Athens, where he had responsibility for Gastroenterology patients and oversaw the Advanced Endoscopy Unit. 
 
In addition, he founded Endotherapia, which provides ultra-personalized wellness guidance drawing on all available clinical, family history and social data relating to an individual, combining it with biochemical and genetic testing to determine science-based wellness insights.  
Dr. Sechopoulos received his medical education and early professional experience in the U.S. at UT Austin, the University of Alabama, Birmingham, Rush-Presbyterian-St. Luke's Hospital in Chicago and at Vanderbilt UMC, where he finished his Gastroenterology fellowship. Later at Vanderbilt University Medical Center in Nashville, TN, he was an Assistant Professor and undertook endoscopy duties and participated in outpatient clinics. He has co-authored or contributed to a dozen books and publications, covering strategies for treating and evaluating a range of medical conditions.  
Arleen Chung, MD – Specialist in Pediatrics. Coordinator of the Medical Advisory Board. 
Dr. Arleen Chung founded and runs an outpatient pediatrics practice in Athens, Greece, where she offers very personalized integrative pediatrics with a focus on children and families acquiring healthy habits from infancy. She emphasizes the importance of correct nutrition, movement, avoidance of toxins including video screens, as well as stressing the importance of sleep habits which ensure mind and body recovery. In particular, she seeks to understand family dynamics to be able to ensure optimal health for her patients. She especially devotes time to talking to teenagers and their parents during this often stress-filled time of life. 
Dr. Chung trained in the U.S. She graduated from Vanderbilt University with a major in molecular biology and received her MD from the University of Alabama in Birmingham. She completed her pediatrics training at Northwestern University Medical Center at Children's Memorial Hospital (currently Lurie Children's Hospital) in Chicago. She then spent time in the hospital's NICU, ER, and Asthma Care Units before joining a Pediatrics private practice in Nashville, TN. 
David Vigder, MD – Specialist in Internal Medicine and Direct Primary Care. 
Dr. David Vigder is a highly experienced, board-certified Internal Medicine specialist with more than 28 years of experience in the medical field. He earned his medical degree from Ohio State University College of Medicine and Public Health in 1994. Following medical school, Dr. Vigder completed his residency at Rush Medical College in 1997.  
Since then, he has been practicing in the North Shore area of Chicago, IL, and is affiliated with prestigious hospitals such as NorthShore Hospital – Highland Park and Northwestern Hospital – Lake Forest. 
Dr. Vigder's areas of expertise include preventive care, chronic disease management, geriatrics, and diagnostic medicine. He is known for his compassionate approach to patient care and his commitment to providing the highest quality medical services. 
Benjamin Wiseman, MD – Specialist in Mental and Behavioral Health. 
Dr. Benjamin Wiseman is a psychiatrist in Richmond, Virginia with more than 14 years of experience in the field. He currently serves as medical director of the behavioral health programs at Retreat Doctor's Hospital and Cumberland Hospital for Children and Adolescents. He has been with Insight Physicians since 2014 and has extensive experience in treating Mood Disorders, Psychotic Disorders, Personality Disorders, and Addiction & Substance Abuse.
He received his medical degree in 2009 from the University of Virginia School of Medicine. Prior to medical school, he earned a master's degree in computer science from UNC Chapel Hill. Dr. Wiseman is a founding partner and active member of the Allied BHI team where he used his computing experience to help develop Allied BHI's Registry Software. His goal is to use technology and innovative models of care to improve access to behavioral health services nationwide. 
Yunguo Yu, PhD, MD – Specialist in Healthcare and AI. 
Dr. Yunguo Yu is a full-stack data science and healthcare leader with a proven track record of jump-starting and transforming healthcare through award-winning data-driven solutions, delivering enhanced clinical and financial outcomes for payers, providers, and patients. He has conceptualized, developed, and deployed nearly 1,000 AI/ML models in the healthcare industry, delivering significant financial results, business value, and strategic growth. 
With expertise in data governance, strategy, and analytics, Dr. Yu has a proven ability to lead large cross-functional teams to build and deploy AI/ML solutions at scale in healthcare payers, providers, life sciences, and pharmaceutical industries. Applications have included healthcare risk adjustment, claim process automation, fraud detection, AI/ML-based healthcare underwriting, healthcare cost estimation, risk stratification, preventive and personalized medicine, targeted vaccine marketing and customer churning, prioritizing claim worklists, provider-matching and entity resolution, and claim pricing and cost management, medical image processing, and retrieval-augmented generation for medical information and knowledge retrieval. 
 
In addition to his technical expertise, Dr. Yu has experience in establishing policies and procedures for managing and securing patient health data in compliance with HIPAA regulations and has developed and executed data strategies for EHR platforms that identify sources of patient data, create data models, and implement data analytics infrastructure to support AI/ML models. He has also built predictive models and analytics tools that process patient data in real-time to provide personalized recommendations for patient care. 
MEDIA CONTACTJen Massing Harris
Massing PR, LLC
for HealthBook+
+1 917-293-2405
jenm@massingpr.com